I've not posted about my Hayabusa for sometime and as it is my main go to bike I feel this is a little unfair!! The Busa has sat there patiently while other bikes have come and gone, I feel that it might be like the grunts in the Vietnam war, not getting to know the new guys because they might suddenly not be there anymore 😉
Anyway I will go through all the mods I have done and intend to do and you will see there is not a huge amount left to do on the Busa, except ride it!!!! So from front to back here goes:
PFM Performance Profiled Discs – These discs look smart and are an upgrade on the originals as they are fully floating design. Unfortunately as they are fully floating they rattle badly at low speeds (They might rattle at higher speeds but you can't hear it) I am sure some people I have ridden past at slow speed have thought my bike is knackered and is falling to pieces but it's not. I bought these second hand and I think the first owner ditched them because they rattled so badly.
Brembo M4 One Piece Calipers – A possible performance increase (I do say that I will not put stuff on my bikes for purely aesthetic reasons, but sometimes things are so pretty) as they are one piece calipers and therefore don't flex when braking but to be honest if anyone can tell the difference, or uses the difference on the road they are riding way too hard and need to find a track and go racing, seriously. These calipers do look nicer. The later Busas have something very similar, though it has been suggested that the OEM M4 Brembo's are not quite as good ass the normal M4 but I can't really tell the difference and if you can notice a difference see my comment above.
EBC HH Front Caliper Pads – As I changed the calipers I had to put some new pads in, I usually use Bendix Supersport pads but I had a chance to buy some EBC ones cheaply so knowing that they are OK I grabbed them and they have performed fine.
K-Tech Fork Springs – I am not a lightweight, there I said it……… So the stock fork springs were a little light for my weight. So I used the Racetech website to calculate the Spring Rate and ordered the relevant spring from K-Tech as a mate could get them for a very good price. I my time honoured way I can't really tell that much difference, I just get on with riding to be honest, but it does dive less under braking and setting up the dynamic sag was easier.
7.5w Fork Oil – I put a heavier fork oil than standard into the forks when I re-sprung them to help with the damping as I am a little heavier (OK a lot) than the average chap.
Helibars – On my previous Hayabusa I had a handlebar raiser that made the bike much more comfy by taking some weight of my wrists. I looked around for the best option for the Mk2 Hayabusa and lots of people said Helibars were the way forward. So I ordered some, they were not cheap! When they came I was very sceptical as they only raised the bars by what looked like 1/4 inch. In fact in use they are great and really help with the comfort.
Brembo RCS19 Front Master Cylinder – I got this master cylinder second hand in a deal with the brakes and to be honest at first I really didn't like the feel, it was better than the original master cylinder but only just. Once I had striped down the Brembo brakes and cleaned them all up did the fell come like I wanted it. Though to be honest I really like a firm lever with minimal movement, which could be argued is not the best for braking, it is what I like.
Hel Braided Hose – As I had changed the brakes and the master cylinder and the master cylinder was Radial in design I really needed new brake hoses. As my mate is a Hel brake hose specialist it was not a great leap of imagination as to what hoses I would get.
Lightenupgrade LED Dash Lights – This is not something I would of gone for as I didn't think the original dash lights were particularly bad. However a mate of mine owns Lightenupgrade a company that makes LED upgrades for car and motorcycle dashboards. He borrowed my dash to prototype the kit for the Mark 2 Busa and left the white LED kit in it when he handed it back. I thought I wouldn't be bothered with it, but I must admit it does look good.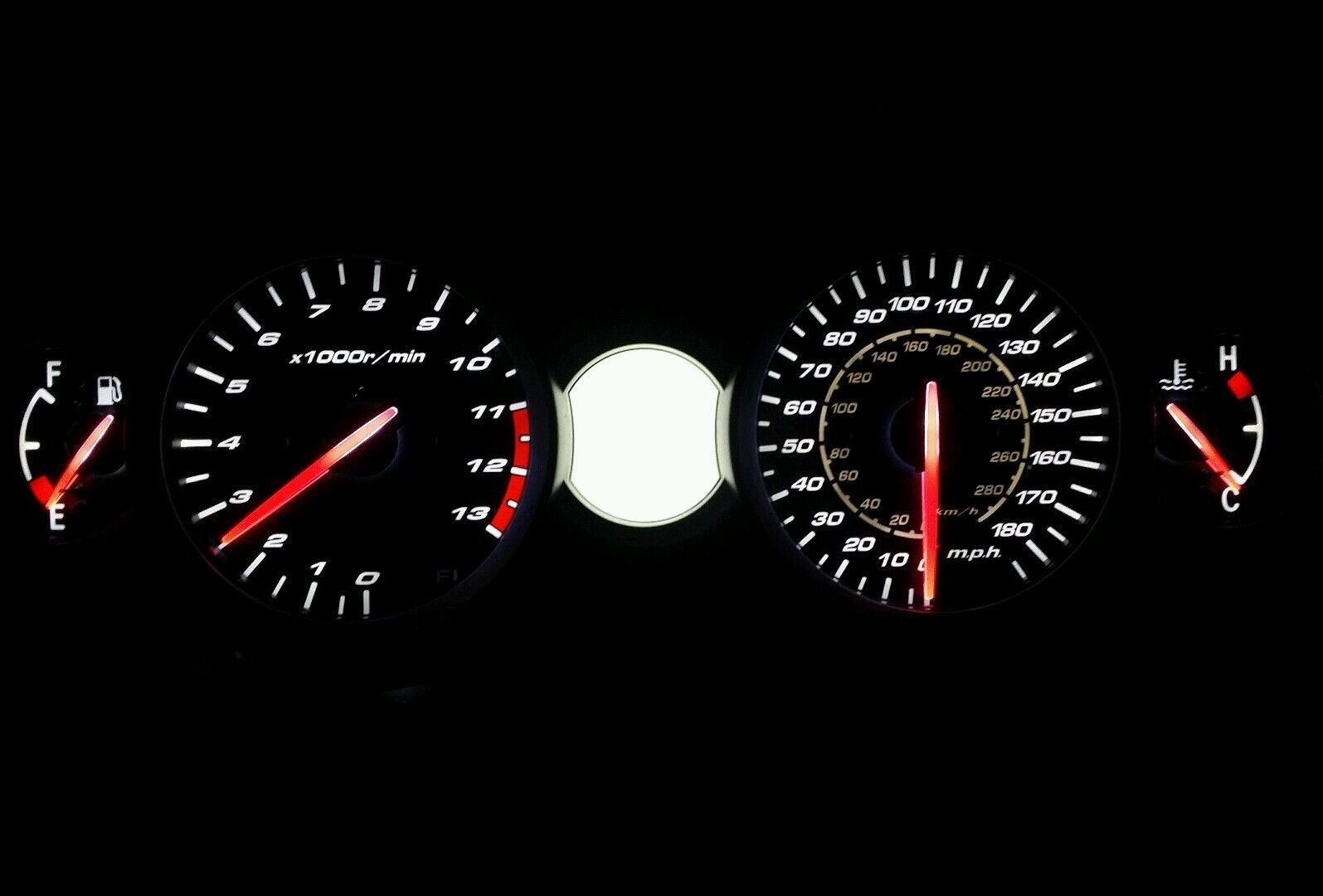 LED Headlights – I have bought a pair of LED headlights to try in the Busa, the headlights as standard are not 186mph headlights, more like 36mph, they are not the best. I have tried HID bulbs but I was not super impressed and I though they were causing battery draining issues so took them off. I have now got some LED bulbs, they seem OK in a static test but I really need to ride with them in for that final sign off. Too much snow for that at the moment.
Tank Infill Panel – This is one of the few cosmetic only "improvements" I have made. I got the part cheap and it does tidy up a very visible part of the bike. I would of preferred one with out the Hayabusa symbol on it, but you cannot get one. I did think of filling in the carved out Hayabusa symbol and painting the infill but it is currently anodised in black so I did not want to ruin the finish.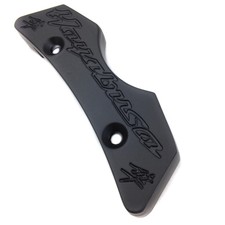 Ball Mount for Sat Nav – This ball mount fits in the steering stem and puts the sat nav in a great place to be seen, just below the clocks (There is no other reasonable place on the Hayabusa because the screen is so low)
Pipercross Air Filter – Just a bog standard Pipercross air filter, I thought I would try something different to the usual K&N air filter.
Buell Dropped Pegs – The standard pegs on the Busa are high, as high as a GSXR and does make the bike, for me, a bit uncomfy. There is a mod where you fit the pegs from a Buell XB Lightning which drops the foot rest position by about an inch, which doesn't sound much but it really does help. As the original Busa pegs are so thick even with these lower Buell pegs there is no change in ground clearance.
Cheap Folding Tip Rear Brake and Gear Shift – I bought these cheap Chinese black gear shift and rear brake levers for my Mk1 Busa and took them off before I sold it. So I had them kicking around the garage and they fitted so I put them on. Because of my big feet I do tend to have the gear shift and brake lever hanging lower than the average chap, so having the folding tip does give me some reassurance that they will not dig in however far I bank the bike over.
SW-Motech Pannier and Top Rack – I like this rack system, I had one on my Mk1 Busa and when I got my Mk2 I immediately got another one. The top box rack stays on the bike all the time and is fairly low key and does not look too out of place. The adaptor for the top box then fits on top with three quick action screws. The pannier racks are easily detachable and there is little evidence on the bike once they are removed.
Yosimura 4 into 1 Full Exhaust System – This was bought because I had bought the Autotune and the O2 sensor would not fit the standard system, and it was reasonable cheap, it was also a lot lighter than standard and it does make a little more power. I checked the spec of the exhaust and it had the right size bung already fitted so went for it. Imagine my surprise when the exhaust turned up and the bung was the same size as the standard Hayabusa which M12 not M18. So I got a M18 bung and took it to a professional welder and he welded it on. Fitting was relatively easy, after removing all the plastics. One thing to note is that access to the oil filter after fitting is a little tight.
Dynojet Power Commander V – I spotted what I thought was a bargain on Ebay, Dynojet Power Commander V, Autotune and a Quickshifter so I went for it. In the end it wasn't quite the bargain I hoped as the quickshifter didn't work properly and I could't get the Autotune to work (now sorted, but it took a while) Currently the Power Commander has a tune on it that I downloaded off the Dynojet website, it is not quite right for the bike but the Autotune should round off the edges.
Dynojet Autotune – I got this as a part of a package deal with the Power Commander V and a quick shifter. I haven't got this working fully yet as there was minor piece missing. It seems the early Power Commander V, which I have, do not work with the Autotune unless there is a blanking plug in the second port of the CanBus connection between the Power Commander and the Autotune. I am hoping for good things from the Autotune, the tune that I have installed in the Power Commander seems to be very close to what the bike needs, it seems smooth with lots of power. We'll see if the Autotune can improve on the matter.
Translogic Intellishift Quick Shifter – I got a Dynojet Quick Shifter with my Dynojet package deal and unfortunately it didn't work properly. After some investigation I found out that in the UK the Dynojet Quick Shifter was built by Translogic and after a quick phonecall to them they sold me at discount a Translogic control box for the quickshifter, they said that it would work with the Dynojet shifter sensor. It does work with the shifter and it is a fantastic bit of kit. There is nothing funnier than redlining every gear and shifting up without backing off a jot. One interesting thing about the Quickshifter is that it is a positive boon for when you have a pillion, especially and inexperienced one, it really gets rid of the headbutting that can occur when changing gear.
Pyramid Plastics Rear Hugger – Just a bog standard hugger incorporating the chain guard. Perhaps not the best looking thing on the bike but it does the job.
Gilles Chain Adjusters – These are a nice bit of kit, they positively hold the rear axle both fore and aft so you don't have to worry about making sure the rear wheel is pushed forward onto the chain adjusters like you used to have to.
R & G Tail Tidy – The way the Busa is put together the standard rear mud guard just unbolts and the new R & G one just bolts on. It has a LED number plate light which is way too bright, I really need to sort this out, I was going to put something opaque over it.
Bridgestone T30 Evo Tyres – I am a dedicated Bridgestone man and these seemed the logical tyres to put on the bike. Previous to this I had a S20 Sports tyre on the front and a T30 Sports Touring tyre on the rear and I was very impressed with the performance of the rear so when the S20 wore out I was very happy to get a pair of T30 Evo's. At first I was very disappointed in them and was even thinking of changing them when I started to experiment with tyre pressures. The standard pressure for Hayabusa's is 42psi front and rear, but that was for Sports tyres which have very flexible carcases, while Sports Touring tyres have heavier carcasses and feel horrible at 42psi. In the end I settled on 36psi front and 38psi rear, they felt so much better then and I would recommend them to anyone. With these pressures I can wear the tyres edge to edge and easily get my knee down.
To do:
Re-Foam the Seats – I re-foamed the seats on my Mk1 Busa and it extended the range of the bike before full arse death set in. Interestingly the foam they put in for me was firmer than the original but it did make it much more comfy.
Lightweight Wheels – I hear that the biggest improvement to a bike after the suspension is lightweight wheels, I would love to put carbon fibre wheel on my Busa but the cost being around £2000 I think it is a bit of a pipe dream.
Brembo Under Slung Rear Brake Hanger and Caliper – The Busa is a fast heavy bike and because it is long and low the rear brake is quite useful. The Mk1 Busa had a twin opposed piston caliper at the rear and the Mk2 downgraded to a single piston sliding brake. The Brembo brake caliper bracket allows the use of a Brembo twin opposed piston caliper. I have a Brembo copy caliper from China waiting to go on the bike. One thing that might also need changing is the rear master cylinder as it is the right size for a single piston caliper and I might need to change to one for a twin piston caliper.
Radial Clutch Master Cylinder – I want to upgrade the Clutch Master Cylinder to match the Brake Master Cylinder, but Brembo RCS Clutch Master Cylinders are very expensive, even more than a Brembo RCS Brake Master Cylinder. I have a Chinese RCS style Clutch master cylinder waiting to go on the bike, but it does not have any provision for a switch, though neither does the Brembo. I think I can make a bracket to hold a switch but it would be so much better if it had one as standard. The other option would be to get a Radial Master Cylinder off another bike that has a switch provision, though it wouldn't match the Brake Master cylinder so well.
2017 Model Hayabusa Stripe – The 2017 Black Busa has a dark silver "Shelby" stripe and it really suits the bike. I have been thinking about buying this stripe and putting it on my bike. However Suzuki spares are not the cheapest so it would be an expensive project, so it might not happen.
Shock Factory Rear Shock – The rear shock on the Busa seems fine to me (I am notorious for not noticing suspension on bikes) but I think it would benefit from an after market rear shock (to go with the uprated front spring) I have heard good things about shocks from the Shock Factory so I am considering getting one of those.